Online Purchasing for Course Materials Now Available
---
Course Materials FAQs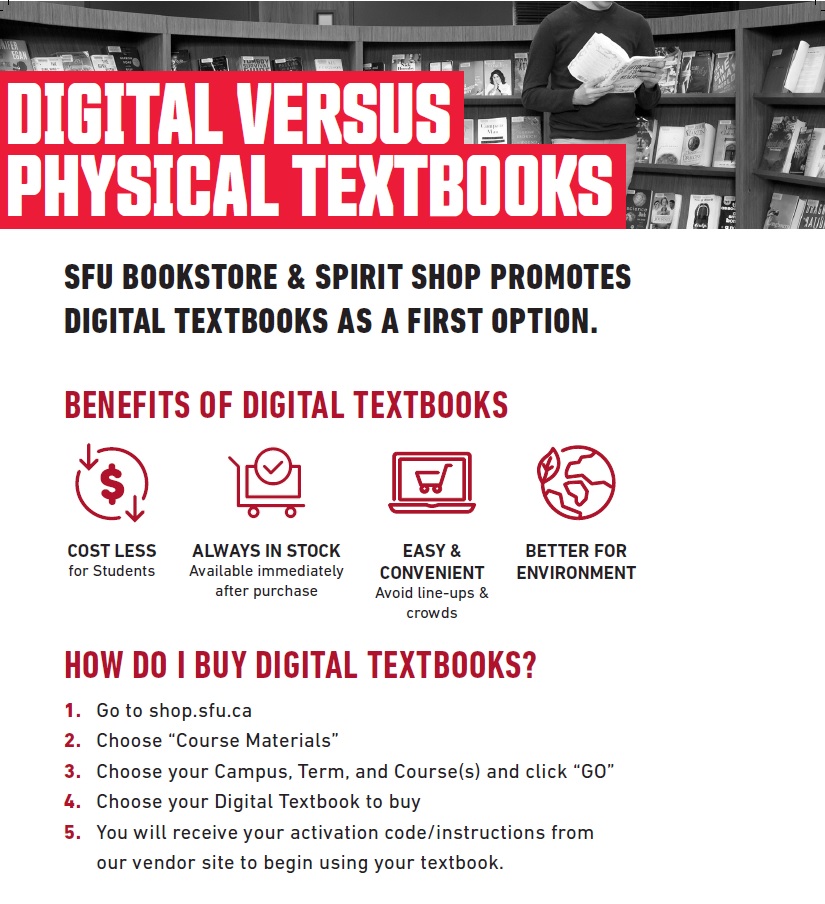 What Are My Options?
To support SFU's online learning and compliance with physical distancing, we are continuing our online platform with VitalSource to provide student choice for digital course materials. This means that the SFU Bookstore will be focusing on providing digital course materials moving forward. We have partnered with VitalSource whom of which supplies online textbooks at a significantly better price than a physical textbook.
Please Note: All digital course materials provided by the Bookstore are final sale. If you purchased an eBook from VitalSource, please refer to their return policy on the Refunds page. Prices & availability for course materials are subject to change without notice.
What is VitalSource?
VitalSource is an online textbook platform that lets students purchase and access their assigned course materials whenever and wherever they need to. VitalSource includes study tools to support a more efficient reading and review process for all students. Digital course materials from VitalSource provide enhanced accessibility options such as text to speech, zooming and font-size adjustment capabilities.

In line with SFU's core principle of sustainability, this program helps us to curtail our carbon footprint through reduced manufacturing and shipping demands while mitigating waste for a greener future.
If your course list displays a VitalSource eBook, we will not be ordering physical copies.
What is Campus eBookstore?
SFU Bookstore also uses Campus eBookstore (CEI) to provide eBooks and Access Codes. Currently CEI is fully integrated with our website, to streamline the shopping experience. You can redeem your CEI code here at shop.sfu.ca/redeem
If your course list displays a Campus eBookstore eBook, we will not be ordering physical copies.
What is an Ebook?
An eBook is a digital edition of a textbook. These are available for purchase through VitalSource or Campus eBookstore and the SFU Bookstore. If your course list displays an eBook, we will not be ordering physical copies.

VitalSource provides its own platform called Bookshelf where students can have access to their eBooks by logging into their account online. They may also download the Bookshelf app onto up to 4 devices (2 laptops and 2 tablet/mobile phones). This allows students access to their eBooks offline as well. Students will also have the choice to rent an eBook if they do not wish to have lifetime access.
Campus eBookstore uses BibliU as your eReader. BibliU is a learning enablement platform that leverages digital content management, automation, and analytics to enable more efficient and effective learning. With BibliU, you can provide students with access to 2 million+ learning assets from thousands of publishers, including OER sources. BibliU provides a seamless content access experience for students through SAML integration. An account is automatically created for each student upon book purchase - no need for a code. Accessibility
features such as text-to-speech, speed reader options, screen colour adjustments, and zoom capabilities allow students to study in a way that best suits their individual learning needs. Our accessibility standards meet and exceed EU standards. Students and academics benefit from features such as deep-linking, note synchronisation across all devices, annotation, highlighting, referencing, sophisticated search functionality, offline downloads, and the ability to search notes.
...more about BibliU eReader

Encoding of text
All books are stored on AWS S3 in an encoded format where text is scrambled and unreadable due to the random insertion of additional words and characters. This additional injected
content is indistinguishable from the real content, and requires a unique key as well as our decryption logic to hide it correctly.
Secure storage of offline titles
Titles downloaded for offline use can only be read from within the app. All files stored on the user's device are encoded with our DRM protection as explained above and are additionally
encrypted with AES-256.
Copy/paste limits
Students are allowed to copy/paste text out of a book up to a publisher-set allowance.
Print limits
Students are allowed to print pages out of a book up to a publisher-set allowance.
Concurrent device limits
Students can read from a single internet-connected device at a time.
Limit on offline devices
Students can download titles for reading through the app while offline on up to 2 individual devices.
Ebooks from the SFU Bookstore are often packaged with the publisher's online homework. These are purchased together with an access code as a subscription, usually allowing access anywhere from 90 to 180 days, or even perpetual access.
You said you've gone digital, but I still want a physical textbook. Can you special order one for me?
Our course material experts can find out if a special order is available, email us at textbook@sfu.ca. Please provide your name, course, section number, and textbook details and allow 1 to 2 business days for a reply.
Please note: shipping times can be up to 10-14 business days from the day we place the physical order with the publisher.
What is an Access Code?
Access codes are provided by the SFU Bookstore and can be redeemed online to gain access to materials directly related to your course. Some access codes can be purchased on its own or with an eBook.
What is a Course Pack (CP)/Electronic Course Pack (ECP)?
This a compiled list of selected readings that are chosen by your instructor. They are then packaged as a course pack that is produced on campus. We are excited to announce that as of Spring 2021, we will now be also offering digital/electronic course packs!
Please note: All course packs (both digital and physical) are final sale due to copyright laws.
I don't see any books listed for my class, what does this mean?
As Faculty and Departments submit their course materials requirements to the Bookstore, we are continually in the process of obtaining course materials. Please check back closer to the start of the semester. Alternatively, if nothing is listed, this might mean that there are no required or recommended textbooks for the class through the SFU Bookstore. Please check your course outline and/or contact your instructor for further details. Or ask us on LiveChat.
What is your Refund policy for Course Materials?
Please view our our Refund policy here.
Please Note: All digital course materials provided by the Bookstore are final sale.
What are your store hours?
Please view our hours of operation here.
What should I do if I have questions that aren't answered here?
Please contact the Simon Fraser University Bookstore at textbook@sfu.ca for assistance. Or, click on the live chat icon on the lower right hand corner during store hours, where our live chat agents will be happy to help you!